Once you have branding and a logo in place, you need to get it out there! This is actually the hardest part for most people, and a lot of that has to do with deciding where your brand should go. Print design is not dead. In fact, it's booming. Every week, we create beautiful and unique print designs for businesses in Edmonton.There is nothing like the experience of paper and textiles in your hand to reinforce the experience of the brand. 
Paper Lime Creative specializes in print design in Edmonton. We're experts in anything print, including business cards, signage, vehicle wraps, brochures, folders, and custom mail-outs. Basically, if you need to get the word out into the world about your brand on paper, we can help!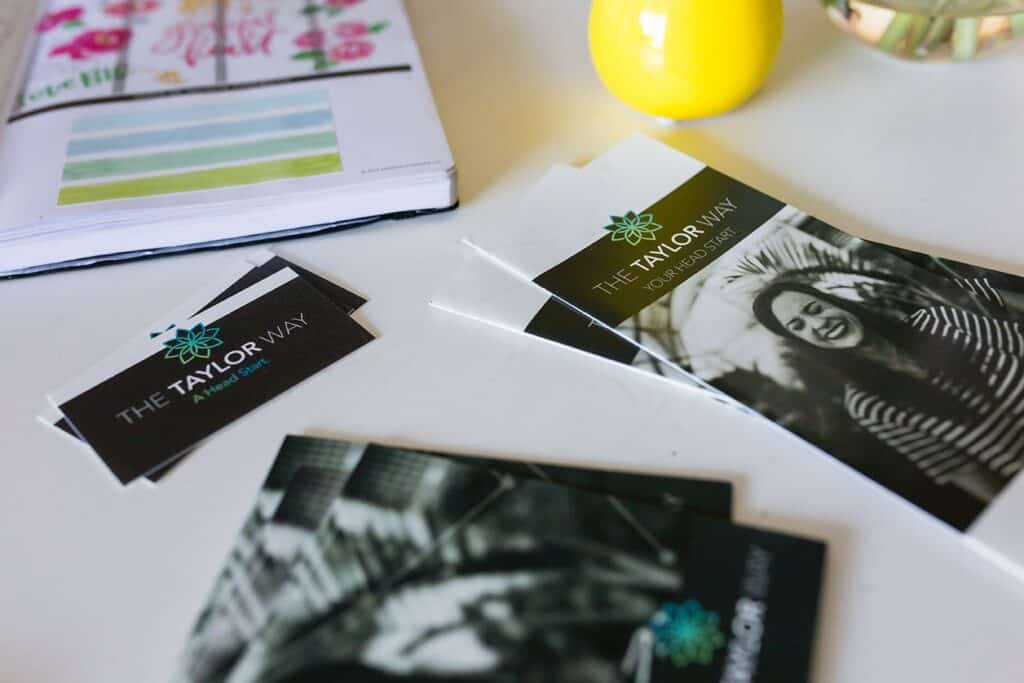 Why Print Design?
Print cuts through the noise of online marketing. In a time when every brand is online, brands that are combining their digital materials with print materials are bound to shine. 
We're not just here to help you create something beautiful in print; we're here to make sure it gets into the right hands. In addition to managing your print design from start to finish, we provide insight into how you can keep your designs on coffee tables instead of in recycling bins.
A FEW EXAMPLES OF PRINT DESIGN
Business cards are your first and most lasting impression. When you hand over your business card to someone and they say, "wow, that's a nice card," you've already cemented your brand in that person's memory. 
Business cards should be customized, not just by adding a logo, but with full branding. The choice of colours, finishes, cardstock types, and details speaks to your entire brand experience.
Explaining your business to others through words is great, but people often respond better to paper versions. When they can see your processes, products and services, and brand experience laid out on a page, something clicks. 
A one-page sell sheet is easy to email, print, and store. They can come in just about any style and might include photographs, custom graphics, infographics, and more.
Giving people something to take away helps them bring the brand home. Brochures are great to leave in your office or bring to networking events. In a brochure, you'll want to consider what your customer needs to see to make the next move. We'll help you break your brochure up into clear sections and create a call to action that sticks.
Gathering information is part of any business. Like any other part of your process, your brand needs to shine through; this is part of the whole brand experience! We create custom forms for businesses in Edmonton, from intake forms and questionnaires to invoices and quotes. Plus, custom forms allow you to gather the exact information you need with nothing superfluous.
Signs grab the attention you need to get more eyes on your brand. Different signs demand distinct types of design. We can help you create physical or digital billboards, lawn signs, banners, wall or window decals, and virtually any other size or type of sign available!
If you can print it, we can design it. We've covered everything with branding, from foot pedals on drum sets to themed event invitations. If you aren't sure if we offer a particular print design service in Edmonton, just reach out and ask!