How to Come Up With Branding Ideas
Branding
is crucial to client experience because it is the face of your business. It gives a personality to the services and products you provide.
Branding means creating a positive image of your company and distinguishing it from others
.
Choosing related ideas that interest you
What story do you want to tell? What is your brand's personality? Is it more value-focused? Is it high-end?
What does it do for others? How will it make people feel? The answers to these questions define what your brand represents.
Here are some tips on how to develop brand ideas:
Create a list of areas that interest you. This could be food, sports, makeup, writing, drawing, or content creation. It's all up to you.
If you can't narrow down or come up with something, think about your favourite brands. What areas do they cater to?
Pick a few adjectives to describe your brand. Here are some examples; active, creative, wealthy, activist, daring, and fashionable. It helps to establish your brand's identity, as well as personality.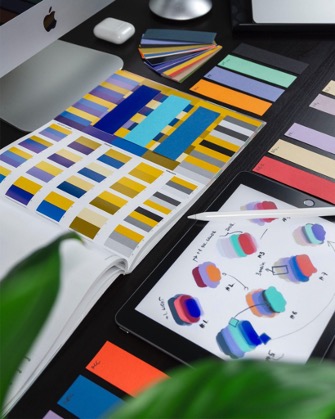 Who do you view as the target audience or potential customers who will be using your products? There are tons of competitors out there who you will face. Study what they're doing that attracts customers to their products or services.
Note aspects that customers dislike from competitor brands. This
is called
brand awareness. From there, you can come up with how to make your products unique and stand out from the rest. Ask yourself, what problem will it solve for others?

Creating brand ideas around your business
Before the design of the logo and other branding, you have to come up with a name. The name of your brand can be an acronym, a made-up word, a metaphor, or even the name of your best friend. This is the name customers and clients are going to know you for.
The name will also be in the domain of your website. It's best to research if the name already exists. There can be legal ramifications if you use the same name or logo as another company.
This also avoids confusion among consumers and won't affect your business. You could look into getting the name trademarked as well.
Creating memorable branding designs
Designs are a visual representation of your brand. Memorable designs should include your primary logo, as well as related illustrations.
Branding should incorporate colours, names, fonts, and brand voice.
The first order of business is implementing a logo. A logo represents your brand, so it should be simple and recognizable. A logo design could feature a mascot, an icon, an emblem, or a name. A skilled graphic designer will be able to create a great logo for your brand.
Colours can evoke emotions, they're going to affect how your customers feel about your brand
.
Colour guides can help you understand how to convey the emotions your customers feel when they work with you
. For example, green is for peace and growth. Brands that deal with nature or the environment, such as John Deere or Animal Planet, use this colour.
Typography and fonts should be consistent for your brand visuals. Simple, and readable. Block letters are typical typography for children's brands. Whereas more mature brands use cursive or thin fonts.
McDonald's is playful, and fun, with a design that's inviting to all ages and backgrounds. The design uses warm colours, red, yellow, and white. They don't complicate the use of their colours with patterns.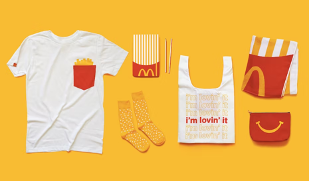 The various designs are unique and showcase the brand's identity. The famous yellow "M" is recognizable all around the world. Their logo features on all their designs and products. It's simple and reflects a visual cue for the fast food restaurant.
Consistency is key and must
be maintained
with your designs. It creates cohesion in the eyes of consumers and allows your brand to look more recognizable.
What to include in your marketing plan
The goal of marketing is to grow your brand by broadening it across markets and new demographics. Be specific in your own goals; how much do you want to grow? What is your budget? How much time and money can you put toward making this happen?
Your target audience will affect where and how you market.
Marketing is visual, oral, and written, so there are many formats available. Google ads, business cards, networking, radio ads, word of mouth, newsletters, and more.
Digital marketing in the form of social media is a fast-growing form of communication. Consumers are more likely to buy from a brand they follow than a brand they don't. Interacting with followers will increase engagement, grow traffic and create a larger following. You don't need a huge budget to put marketing campaigns on social media. Content marketing and digital marketing strategies will help guide your online marketing presence.
It's also important to consider which apps to use since they cater to certain demographics
. If your brand is for teenagers, then Pinterest and Instagram are great places to market. Brand relationships are primary to building connections with consumers.
Need help creating your branding ideas?
At Paper Lime, our business is graphic design and visual messaging. We create successful and appealing brand designs that attract customers and build businesses. Book a consultation call today if you need help with your branding ideas!