What is a business card?
A business card is a pocket-sized card that displays business information. It can be for a company or an individual.
It should include the full company name. This is either the logo or in a large font size to be the focal point of the card. You should have your name, position, and
maybe
even a tagline.
It must also include contact information and a website. Contact information includes; an email address, phone number, social media, and an address.
A business card doesn't need every piece of information, but it needs enough so that your clients and potential clients can reach out to you
.
QR codes are becoming popular, as it is an effortless and quick way for customers to find more information about your business
.
Examples of Business Cards
Misty Jespersen Realtor Business Card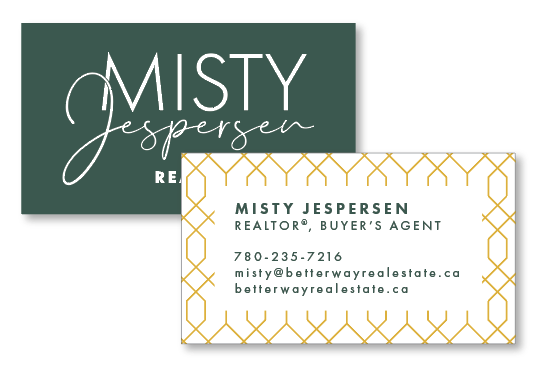 The colours are very noticeable, and the combination is pleasing to the eye. The dark green colour on the front contrasts with the white on the back. The logo is the focal point on the front of the card and the contact information is clean and easy to read.

Meagan Bell Business Card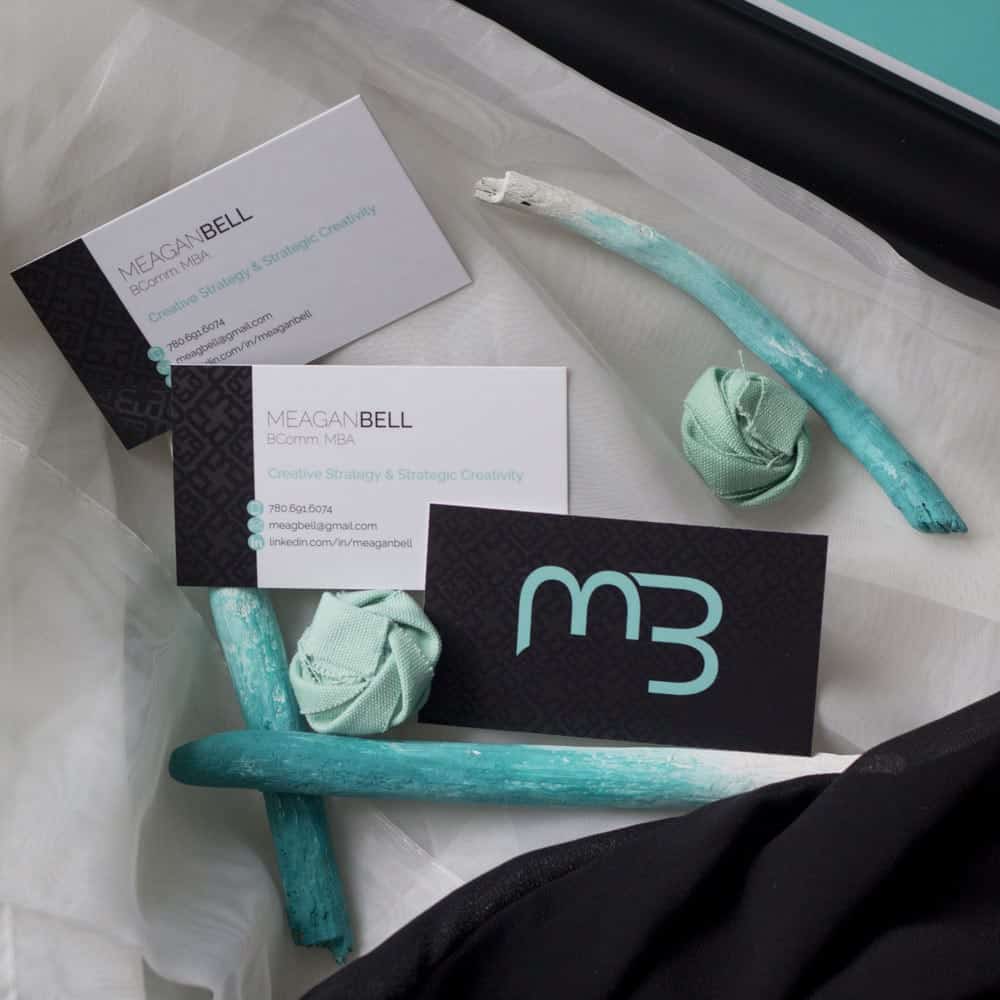 This card has a fun monogram pattern to represent who the card is from. It also utilizes icons instead of writing everything out in full, which is a great way to save space. The tone of the card is professional yet friendly, and the use of teal and black emphasizes this
Off The Wall Residential Painter Business Card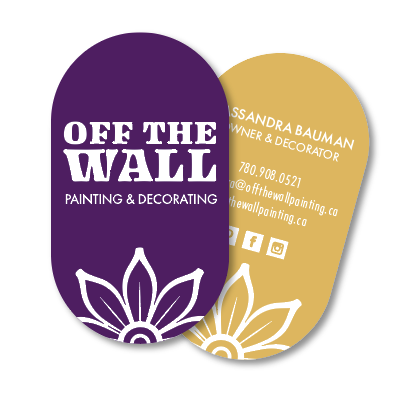 This design uses a unique card shape to stand out from its competitors.
By creating something that looks and feels different from the average business card, you are positioning yourself as someone who will go the extra mile
.
Consider when creating a business card
The layout of your card is where each element will
be placed
. It is like decorating a room, and figuring out where you want the furniture to go.
There has to be a spot for your name, company name, contact info, and logos. Formatting is important to make sure everything needed is there and is at a legible size.
There are two sides to a business card, so consider what will go on the front and back. We never recommend using only one side. Even if you don't feel you have enough information, use the extra space to add some brand personality.
Cramming will not look clean or organized.
White space
is a good thing for business cards.
It allows customers to write down information in the extra space and highlight what's important
.
Determine what shape of card you want to use. Most business cards are from cardstock, a durable, thick form of printer paper. They're usually rectangular in shape and the standard size is 3.5″ x 2.0″.
Next are logos and illustrations. These have to reflect your brand, products, or services. If you already have a logo for your brand, then it should be on your business card. Take into account your
target audience
as well.
Illustrations and pictures elevate the look of a business card. It can turn the canvas from plain, to interesting and eye-catching. Due to the small size of business cards, the photo or logo must fit within the card size. Also, ensure that it is clear and visible to the eyes.
Typography must be consistent on all your business cards, and big enough to read. Small fonts are a common mistake on cards. Your name and the company name should be in the biggest font sizes. Everything else usually goes underneath those titles and is smaller but readable.
Colour brings out personality which will help your card stand out from the rest. Black and white can seem quite common and bland, so try utilizing other colours.
Special finishes, such as gloss or foiling, are a great textural component. The feel of a business card might not seem as important as the visuals. There are several options to add as finishes to your card.
Your website design or branding designs can also help in the creation of a business card and other print designs
.
A great business card is important for your brand
Physical paper copies seem like traditional marketing of the past due to the increase of digital marketing
. A business card is an identification for your
brand
. It's also a way of marketing, easy for people to remember, and legitimizes your company.
You should choose a professional to create your business card
A business card can be for personal use or professional use. It's a process that takes detailed planning to ensure it represents your brand. Have a business card idea? Call Paper Lime Creative for a consultation to see how we can help you make a successful business card.