Capturing Style and Personality in Design
It takes skill, passion, training, and a flair for creativity to become a professional hairstylist. Your clients come to you for a boost in their confidence, a makeover of their style, or because you consistently make them feel good about themselves through the expression of their hair. That is a powerful gift! This is why designing your logo and brand requires careful design and consideration. You want a logo that captures the style and personality of your company while helping you break away from your competitors. Here's how to create a logo that stands out and reflects your business inside and out.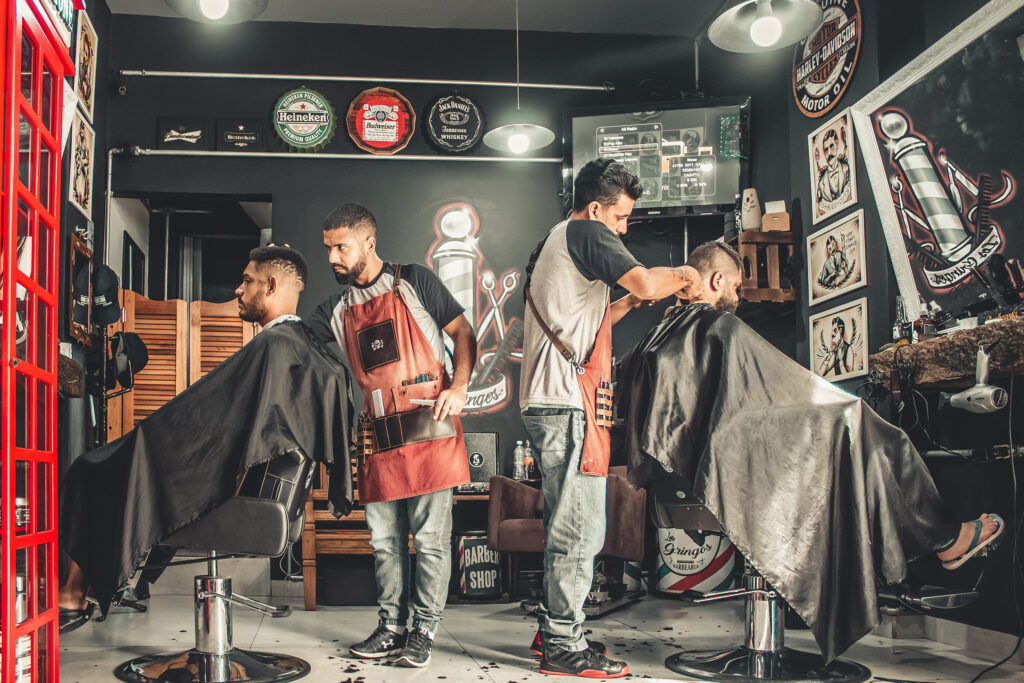 How Your Logo Can Help You Stand Out
Your logo is your first opportunity to stand out from the competition. Most often, business owners will first think of the obvious logo choices, such as the tools of the trade or the primary symbol for their work. We've written before about the tropes for home-related business providers and the overuse of the house as a logo. For hair stylists, the equivalent might be a lock of hair or a pair of scissors. The key to creating a timeless brand that sets you apart from your competitors is choosing something different from the rest of the field.
How can a hairstylist stand out from others? Well, if most of your competition has scissors or a lock of hair in their logo, choosing the same image will make your brand blend in with the rest. We like to work with business owners to get closer to the root of your passion. What are your values? What do you do differently than the rest? What are your most sought-after services or specialties? These answers will help us distill an image that matches your brand and is memorable.
Three Ways to Personalize Your Brand Beyond the Logo
Your logo is the visual focal point of your brand because it's what people see first as the signage on your building, the graphic on your business card, or even the decal on your vehicle. While the logo should be used consistently in your marketing for brand recognition, the symbol or look of your logo involves more than just a graphic. There are three other elements that can pull your brand together and help you personalize what your business is about.
Choosing Brand Fonts
Your brand fonts are the style of the letters in your brand name. You see different fonts when you read the labels of products, read an article online or see a beautiful script on a book cover page. Your brand should have at least one or no more than three distinct fonts to use in your logo and marketing assets. When you carry these over to your social media posts, your print materials, and your website, you'll create a seamless experience for your dream customers.
Fonts also have the power to evoke an emotion in the reader. A sturdy block font inspires the impression of boldness and strength, while classic serif fonts (the type with the little wings on the ends of letters) inspire trust. Stylized handwritten fonts or script fonts can inspire elegance and whimsy. Choosing the right font for your brand is essential to creating a cohesive vibe. There is also an art to pairing more than one font together, which a graphic designer in Edmonton can help you decipher.
Choosing Brand Colours
Along with your logo design, choosing colours that work with your brand and each other requires knowledge of colour theory, which a brand designer in Edmonton will have extensive experience with. Colours, even more so than fonts, inspire different moods and emotions. Knowing which colours spark different feelings will help you decide which colours work best with your brand.
There are many colours in various shades to choose from, and as you probably know as a hairstylist, not all colours work well together! Choosing brand colours that complement each other to tell your brand's story and resonate with your ideal client is essential. This is where an Edmonton graphic designer will take the lead to recommend colour pairings that fit your company's personality and work well together in digital formats and in print. You'll always get the details you need to use your brand colours long after the branding process is over, such as the RGB codes and Hex codes—these help you get the exact shade chosen for your brand and logo.
Brand Taglines
Having a phrase or statement that sums up what you do and how you do it differently can further personalize your brand. This is called your tagline. Some companies have one tagline, while others may alternate between two or three, depending on their services and audience. Remember that the more slogans you have, the more challenging it will be for a customer to remember them.

Logo Design Process with Paper Lime Creative
At Paper Lime Creative, we have a thorough and collaborative process to bring you a timeless logo and brand package. We take the time to learn about your business, how you got started, your goals, and your brand personality. Then, we do research to determine who your top competitors are, how you can best position yourself to stand out, and how to connect with your dream clients. Once we have that vital information and your input, we design your logo and brand elements.
When you walk away with a brand package from Paper Lime Creative, you don't just have a file with graphics in it. You'll have a strategy on how and where to use your brand elements to inspire trust in your audience and gain brand authority with your clients. Don't just take our word for it; ask Hailey from "Hair She Goes: Mobile Barber Services."
Spotlight Success Stories: Hair She Goes
Hailey came to us needing a logo and brand that made her unique business stand out and gain recognition with her target market: men and women who are too busy to get to the hair salon or have limited mobility but still need and want to look their best. Her mobile hair and makeup salon goes directly to the client.
Our challenge was to create a logo that reflected the uniqueness of her company while appealing to both men and women. The result was a logo that plays on both masculine and feminine details, with a bold, neutral colour palette of blue, black, and white. The simplicity of using a statement font with typewriter font meant that she could easily use her logo anywhere from a vehicle decal or wrap to business cards to her hair stylist apron with ease and clarity. You can read the entire case study here.
Hair Stylist & Beauty Salon Logo Design in Edmonton
Let's summarize what hair stylist logo design should and should not include. To have a brand that stands out, it must be clear, avoid the tropes of the industry, and resonate with your ideal client. Avoid choosing the obvious symbol for your industry; select colours carefully and consult with an Edmonton branding company to ensure you get all the components that a full brand package requires.
At Paper Lime Creative, we're a design agency that specializes in branding in Edmonton. We'll take care of your logo design, digital branding, and print design services. Book a consultation with us to create your own standout logo. We'd love to hear more about your beauty salon or hair stylist business!